EVERSOLO DMP-A8
LET OP: DIT IS EEN VOORINSCHRIJVING!
DE DMP-A8 STREAMER WORDT NAAR VERWACHTING BEGIN DECEMBER 2023 UITGELEVERD. PRE-ORDER NU!
EVERSOLO RETURNS THIS TIME WITH ITS DMP-A8, A NETWORK PLAYER AND DAC OF THE HIGHEST QUALITY AND INCREDIBLE VERSATILITY. A TRUE CENTERPIECE OF TODAY'S HIFI SYSTEM, IT OFFERS A WIDE RANGE OF USES, FROM LOCAL FILE PLAYBACK TO ACCESSING YOUR MUSIC LIBRARY FROM NETWORK DEVICES OR YOUR FAVORITE STREAMING APPLICATIONS. ITS METICULOUS DESIGN ALSO ENSURES THE PUREST, MOST PRECISE SOUND REPRODUCTION.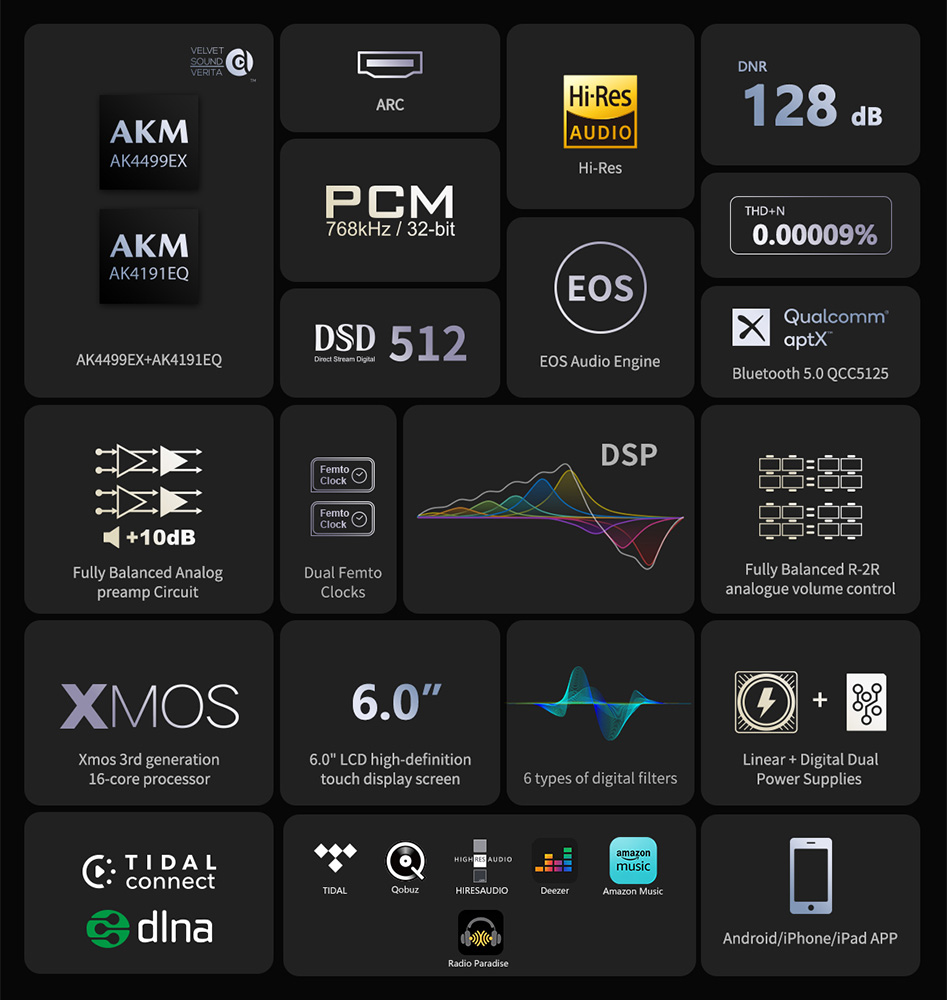 EXCLUSIVE EOS AUDIO ENGINE
THE DMP-A8 USES THE PROPRIETARY EOS (EVERSOLO ORIGINAL SAMPLING-RATE AUDIO ENGINE) OPERATING SYSTEM, SUPPORTING AUDIO OUTPUT AT ALL SAMPLING RATES. IN OTHER WORDS, ANY AUDIO PLAYBACK CAN FULLY BYPASS THE ANDROID SRC LIMITATION, SUPPORTING AUDIO PASS-THROUGH FROM THIRD-PARTY APPLICATIONS FOR PERFECTLY BIT-PERFECT PLAYBACK.
VERSATILE PLAYBACK
THE DMP-A8 SUPPORTS ALMOST ALL AVAILABLE HIGH-RESOLUTION FILE FORMATS, INCLUDING CD FORMATS (FLAC, WAV, APE), DSD512 (.DSF, .DFF, .ISO, .DST) AS WELL AS STEREO AND MULTICHANNEL STREAMS.
ALUMINUM CHASSIS
THE CHASSIS OF THE EVERSOLO DMP-A8 IS CRAFTED FROM AIRCRAFT-GRADE ALUMINUM, CNC-MACHINED WITH THE UTMOST PRECISION FOR A PARTICULARLY ROBUST UNIT. THE BRUSHED FRONT AND ANODIZED BODY FORM A BEAUTIFUL COMBINATION OF CLASSICISM AND MODERNITY.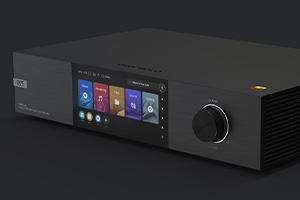 LARGE LCD TOUCHSCREEN
THE FRONT OF THE DEVICE FEATURES A MAGNIFICENT, LARGE 6″ FULL HD LCD TOUCHSCREEN. IT FEATURES A SUPERB INTERFACE, DESIGNED TO OFFER EXCELLENT ERGONOMICS FOR A FLUID, INTUITIVE USER EXPERIENCE. YOU'LL FIND IT EXTREMELY EASY TO ACCESS ALL YOUR MUSIC AND THE DMP-A8'S MANY FUNCTIONS.

ADVANCED CONNECTIVITY
THE DMP-A8 CAN BE USED AS A DIGITAL PLAYER TO CONNECT TO VARIOUS HIGH-END DACS VIA ITS I2S HDMI, USB, OPTICAL OR COAXIAL OUTPUTS. AS A DAC, IT ALSO OFFERS NUMEROUS DIGITAL INPUTS: TWO COAXIAL, TWO OPTICAL, AS WELL AS USB-B FOR CONNECTING A COMPUTER OR SMARTPHONE. USED AS A HIGH-PERFORMANCE PREAMPLIFIER, THE DEVICE FEATURES A BALANCED XLR INPUT AND AN UNBALANCED RCA INPUT. WHAT'S MORE, THE DMP-A8 ALSO INCORPORATES BLUETOOTH 5.0 CONNECTIVITY, ENABLING SIMPLE WIRELESS CONNECTION TO A WIDE RANGE OF SOURCES. FINALLY, THE DMP-A8 CAN ALSO BE LINKED DIRECTLY TO ACTIVE SPEAKERS OR POWER AMPLIFICATION VIA ITS UNBALANCED RCA AND BALANCED XLR PRE-OUT OUTPUTS. A TRIGGER OUTPUT COMPLETES THE PACKAGE, ENABLING YOU TO INTEGRATE THE DMP-A8 INTO AN AUTOMATIC IGNITION CHAIN.

| | |
| --- | --- |
| 1 / 2 / 3 | ANTENNAS |
| 4 | OPTICAL OUTPUT |
| 5 | COAXIAL OUTPUT |
| 6 | HDMI ARC INPUT |
| 7 / 8 | COAXIAL INPUTS |
| 9 | SINGLE-ENDED RCA INPUT |
| 10 | SINGLE-ENDED RCA OUTPUT |
| 11 | POWER BUTTON |
| 12 | POWER INPUT |
| 13 | ETHERNET RJ45 CONNECTOR |
| 14 / 15 | USB-A 3.0 OUTPUTS |
| 16 | I2S HDMI OUTPUT |
| 17 | USB-B INPUT |
| 18 / 19 | OPTICAL INPUTS |
| 20 | TRIGGER OUTPUT |
| 21 | BALANCED XLR INPUT |
| 22 | BALANCED XLR OUTPUT |
FLEXIBLE STORAGE EXPANSION
A BUILT-IN M.2 NVME SSD SLOT IS ACCESSIBLE FROM THE UNDERSIDE OF THE DEVICE, MAKING IT QUICK AND EASY TO INSTALL AN SSD (SOLD SEPARATELY) WITHOUT COMPLETELY OPENING THE UNIT. THE DMP-A8 SUPPORTS SSD CAPACITIES OF UP TO 4TB. THIS MEANS YOU CAN EXPAND YOUR STORAGE CAPACITY WITH A FAST, RELIABLE AND SILENT SYSTEM FOR LOCAL FILE PLAYBACK. WHAT'S MORE, IT'S ALSO POSSIBLE TO CONNECT AN EXTERNAL STORAGE DEVICE DIRECTLY VIA THE DEVICE'S USB OTG PORT.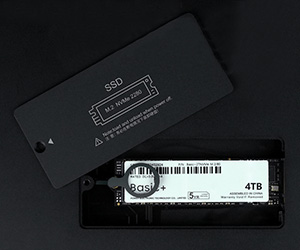 DUAL POWER SUPPLY DESIGN
IN ORDER TO ELIMINATE INTERFERENCE AND NOISE BETWEEN SYSTEM CIRCUITRY (DATA PROCESSING, DISPLAY, ETC.) AND AUDIO CIRCUITRY, AND TO INCREASE SOUND PURITY, A DESIGN WITH SEPARATE POWER SUPPLY CIRCUITS IS EMPLOYED HERE. THE LINEAR POWER SUPPLY CONSISTS OF A MULTI-WOUND TOROIDAL TRANSFORMER SPECIFICALLY DESIGNED TO PERFECTLY MATCH THE CHARACTERISTICS OF ANALOG AUDIO CIRCUITS. THE HIGH-QUALITY SWITCHED-MODE POWER SUPPLY IS OPTIMIZED FOR THE SYSTEM CIRCUIT. THIS ARCHITECTURE DRASTICALLY REDUCES RIPPLE AND INTERFERENCE FOR HIGH-END AUDIO PROCESSING. IN ADDITION, THE DMP-A8'S LINEAR POWER SUPPLY BENEFITS FROM AN INTELLIGENT INPUT VOLTAGE SWITCHING SYSTEM, ENABLING IT TO ADAPT AUTOMATICALLY TO THE SIGNAL RECEIVED.
3RD GENERATION XMOS XU316 USB INTERFACE
WITH ITS 3RD-GENERATION XMOS XU316 USB INTERFACE, THE DMP-A8 IS FASTER WITH HIGHER BANDWIDTH, ENSURING LOSSLESS SIGNAL TRANSMISSION EVEN FOR HIGH-RESOLUTION STREAMS. THE DMP-A8'S USB PORTS SUPPORT STREAMS UP TO DSD512 NATIVE AND PCM 32BIT 768KHZ.

DAC AK4499EX + AK4191EQ
THE DMP-A8 BENEFITS FROM AKM'S LATEST INNOVATION IN DIGITAL-TO-ANALOG CONVERSION. IT FEATURES THE AK4499EX AND AK4191EQ DAC CHIPS, AND TAKES ADVANTAGE OF PROPRIETARY VELVET SOUND TECHNOLOGY TO ENSURE SOUND REPRODUCTION THAT'S AS PRECISE AS IT IS RICH AND DETAILED.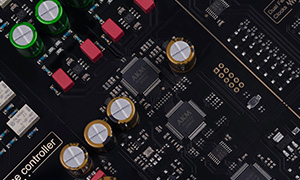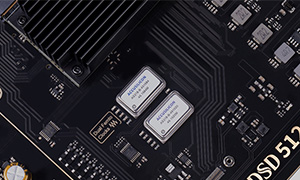 ACCUSILICON DUAL CLOCK
TWO ACCUSILICON FEMTOSECOND OSCILLATORS WITH ULTRA-LOW PHASE NOISE PROVIDE THE DECODING CIRCUITS WITH A CLEAN CLOCK SIGNAL (45.1584MHZ AND 49.152MHZ). THIS DESIGN EFFECTIVELY ELIMINATES JITTER TO ENSURE EXTREMELY ACCURATE CONVERSION AND DECODING OF AUDIO SIGNALS, PROMOTING VERY WIDE DYNAMIC RANGE AND BEAUTIFUL SOUND DEFINITION.
FULLY BALANCED ANALOG PREAMPLIFIER CIRCUIT
THE DMP-A8 FEATURES A FULLY BALANCED, HIGH-PERFORMANCE PREAMPLIFIER WITH XLR AND RCA ANALOG INPUTS. IT ALSO BENEFITS FROM +10DB ANALOG GAIN AND, WHEN COMBINED WITH R2R VOLUME CONTROL, ENSURES VERY LOW NOISE AND DISTORTION AT OUTPUT.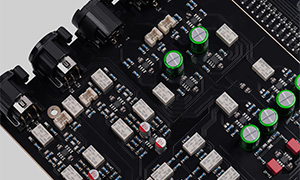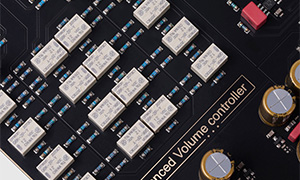 R2R VOLUME CONTROLLER
THE DMP-A8 BENEFITS FROM A FULLY SYMMETRICAL R2R VOLUME CONTROLLER, USING PRECISION RESISTORS AND RELAYS TO PROVIDE PRECISE SOUND LEVEL CONTROL, EFFECTIVELY REMOVING DISTORTION AND NOISE FROM THE ANALOG SIGNAL. IT ALSO INCORPORATES A VOLUME PROTECTION SYSTEM, AUTOMATICALLY REDUCING EXCESSIVE VOLUME LEVELS TO A SET LEVEL WHEN THE UNIT IS SWITCHED ON. THE USE OF R2R ANALOG VOLUME CONTROL ENSURES THAT THE DAC IS ABLE TO OPERATE OPTIMALLY AT ALL TIMES.
HDMI ARC
THE DMP-A8 IS EQUIPPED WITH AN HDMI ARC (AUDIO RETURN CHANNEL) INPUT, AND CAN BE CONNECTED TO DISPLAY DEVICES SUCH AS TVS AND PROJECTORS THAT ALSO FEATURE THIS FUNCTIONALITY. THIS ENABLES THE SEPARATION AND TRANSFER OF AUDIO SIGNALS FROM THE HDMI SIGNAL TO THE DMP-A8, ALLOWING YOU TO ENJOY THE DEVICE'S SOUND QUALITY WITH YOUR TV OR PROJECTION SYSTEM.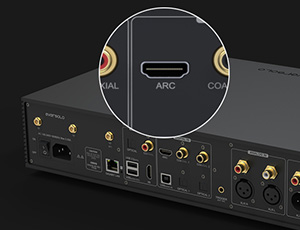 CAREFULLY SELECTED COMPONENTS
THE MAIN COMPONENTS OF THE AUDIO CIRCUIT ARE OF THE HIGHEST QUALITY, INCLUDING GERMAN WIMA CAPACITORS, NICHICON AND MURATA AUDIO CAPACITORS, JAPANESE OMRON RELAYS, AMERICAN TEXAS INSTRUMENTS OPAS, AND MORE. THIS METICULOUS SELECTION OF COMPONENTS ENABLES THE DMP-A8 TO DELIVER PROFESSIONAL SOUND QUALITY.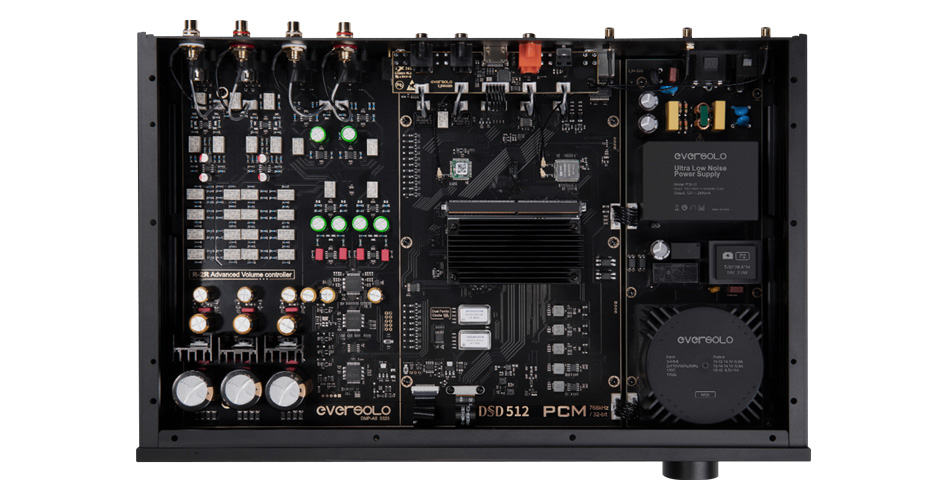 PROFESSIONAL SETTINGS & EXCEPTIONAL AUDIO QUALITY
TO FAITHFULLY REPRODUCE YOUR MUSIC IN EVERY DETAIL, THE DMP-A8 IS METICULOUSLY TUNED TO ITS DESIGN. AS A RESULT, IT DELIVERS INCREDIBLE MEASUREMENTS.

A POWERFUL, FLEXIBLE DSP
THE DMP-A8 ALSO INCORPORATES A POWERFUL DSP PROCESSOR, FEATURING DSP VOLUME CONTROL, PARAMETRIC EQUALIZER, FIR FILTERS, HPF/LPF FILTERING, BASS ENHANCEMENT, COMPRESSOR AND DELAY MANAGEMENT.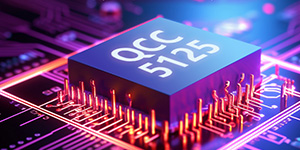 QUALCOMM QCC5125 BLUETOOTH RECEIVER CHIP
THE EVERSOLO DMP-A8'S BLUETOOTH 5.0 INPUT USES A QUALCOMM QCC5125 RECEIVER CHIP, MAKING IT EASY TO STREAM MUSIC WIRELESSLY FROM A SMARTPHONE OR TABLET, FOR EXAMPLE, WHILE ENJOYING EXCELLENT SOUND QUALITY THANKS TO APTX, APTX LL, APTX HD AND LDAC TRANSMISSION CODECS.
YOUR FAVORITE STREAMING SERVICES AT YOUR FINGERTIPS
THE DMP-A8 OFFERS ACCESS TO POPULAR MUSIC STREAMING PLATFORMS AND WEBRADIOS SUCH AS TIDAL, QOBUZ, DEEZER, AMAZON MUSIC, APPLE MUSIC, HIGHRESAUDIO AND PARADISE RADIO, SO YOU CAN ENJOY YOUR MUSIC WITHOUT LIMITS.
THE LIST OF AVAILABLE STREAMING SERVICES IS LIKELY TO EVOLVE AS NEW CERTIFICATIONS ARE OBTAINED. FURTHER STREAMING SERVICES ARE PLANNED FOR FUTURE FIRMWARE RELEASES.

EXPLORE THE WORLD OF STREAMING AUDIO
AS A STREAMER, THE EVERSOLO DMP-A8 SUPPORTS THE TIDAL CONNECT AND DLNA TRANSMISSION PROTOCOLS, AS WELL AS MANY OTHER STREAMING SERVICES. THIS MAKES IT VERY EASY TO ENJOY MUSIC FROM A STREAMING APPLICATION, WITH TRANSMISSION TO THE DMP-A8 VIA A LOCAL NETWORK. WHAT'S MORE, SOUND QUALITY IS PERFECTLY PRESERVED.

A MUSIC LIBRARY FOR LOCAL READING
EVERSOLO'S MUSIC LIBRARY SYSTEM NOT ONLY OFFERS EXCELLENT LOCAL PLAYBACK PERFORMANCE, BUT ALSO UNVEILS A PRACTICAL, INTUITIVE INTERFACE. MUSIC FILES CAN BE ADDED FROM A LOCAL HARD DISK OR VIA NETWORK STORAGE. METADATA IS AUTOMATICALLY RETRIEVED FROM THE CLOUD TO BUILD A VERITABLE LIBRARY OF ARTIST NAMES, ALBUM COVERS, CUE FILES AND MORE. MUSIC IS DISPLAYED IN CATEGORIES ACCORDING TO GENRE, ALBUM, ARTIST AND SAMPLE RATE. OF COURSE, YOU CAN ALSO DESIGN YOUR OWN PLAYLISTS.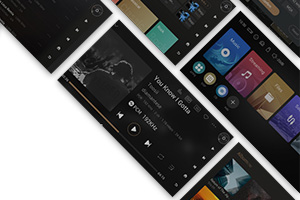 NUMEROUS NETWORK PROTOCOLS SUPPORTED
THE DMP-A8 SUPPORTS A WIDE RANGE OF NETWORK PROTOCOLS, INCLUDING NFS, SMB V1/V2/V3 AND UPNP / DLNA, ENABLING YOU TO BROWSE AND PLAY BACK MUSIC STORED ON A NAS OR NETWORK DEVICE CONNECTED TO YOUR LOCAL NETWORK. EVEN HIGH-RESOLUTION AUDIO STREAMS CAN BE PLAYED BACK SEAMLESSLY.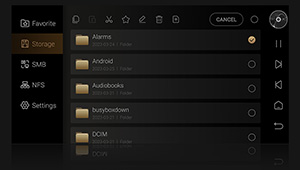 EFFICIENT FILE MANAGEMENT SYSTEM
THE DMP-A8 PROVIDES A POWERFUL FILE MANAGEMENT SYSTEM THAT LETS YOU COPY, PASTE, CUT AND DELETE FILES FROM A LOCAL OR NETWORK STORAGE DEVICE. THE USB-C PORT CAN BE CONFIGURED IN OTG MODE, MAKING THE DMP-A8'S CONNECTION TO A COMPUTER TOTALLY TRANSPARENT FOR MANAGING ALL YOUR FILES. SMB SHARING LETS YOU TRANSFER FILES FROM A CONNECTED MOBILE DEVICE OR INTERNAL SSD TO OTHER PLAYBACK DEVICES, SUCH AS A COMPUTER OR NAS ON YOUR NETWORK. IN THIS WAY, THE DMP-A8 CAN BE USED AS A NETWORK STORAGE DEVICE, ENABLING YOU TO ACCESS YOUR AUDIO FILES AT ANY TIME.
PLAY & RIPPING YOUR CDS
THE DMP-A8 ENABLES CD PLAYBACK BY CONNECTING AN EXTERNAL PLAYER (NOT SUPPLIED) VIA USB. THE CD RIP APPLICATION USES A DATA VALIDATION SYSTEM AND ERROR CORRECTION FUNCTION TO SAVE LOSSLESS AUDIO DATA. THE ALGORITHM INTELLIGENTLY ASSOCIATES ALBUM AND TRACK NAMES, RIPS FILES AND AUTOMATICALLY GENERATES ALBUM AND ARTIST INFORMATION.
AN INTELLIGENT CONTROL APP
A MOBILE CONTROL APP FOR ANDROID AND IOS HAS BEEN SPECIALLY DEVELOPED FOR THE DMP-A8. IN ADDITION TO BASIC PLAYBACK CONTROL AND MANAGEMENT OF LOCAL SYSTEM PARAMETERS, THE APP OFFERS ASYNCHRONOUS ACCESS TO YOUR MUSIC LIBRARY DATA, SYSTEM APPLICATIONS AND MENUS. IT ALSO LETS YOU ACCESS STREAMING SERVICES DIRECTLY FROM ITS INTERFACE.
AN INFRARED AND BLUETOOTH REMOTE CONTROL IS ALSO SUPPLIED. THE WOL (WAKE ON LAN) FUNCTION IS ALSO SUPPORTED, ENABLING THE DEVICE TO BE SWITCHED ON AND OFF REMOTELY FROM YOUR NETWORK (WIRED NETWORK CONNECTION REQUIRED).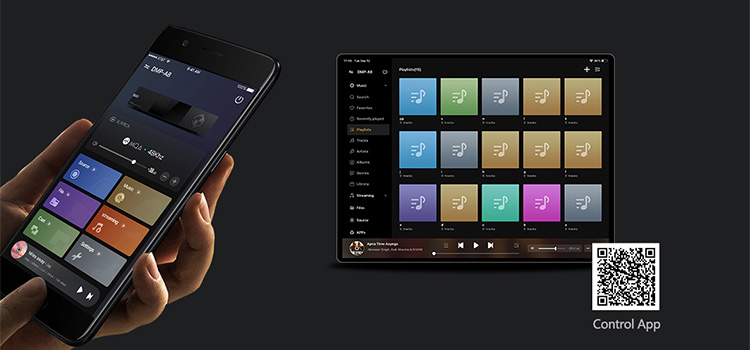 DIGITAL FILTERS THAT ADAPT TO YOUR PREFERENCES
THE DMP-A8'S DAC SETTINGS PROVIDE 6 DIGITAL FILTERS, WITH DIFFERENT MODES FOR VARYING SOUND REPRODUCTION TO SUIT YOUR PREFERENCES.
VUMETER DISPLAY AND AUDIO SPECTRUM
NUMEROUS DISPLAYS WITH METERS AND AUDIO SPECTRA ARE AVAILABLE TO PROVIDE A SATISFYING AND AESTHETICALLY PLEASING VISUAL EXPERIENCE.

TECHNICAL CHARACTERISTICS EVERSOLO DMP-A8:
SPECIFICATIONS
PRODUCT TYPE
STREAMER
TOUCHSCREEN
6″ LCD FULL HD
RAM
4GO DDR4
ROM
64GO EMMC
DAC
AK4191EQ + AK4499EX
USB INTERFACE
XMOS XU316
OPA
OPA1612
POWER SUPPLY
DUAL LOW-NOISE LINEAR + DIGITAL POWER SUPPLIES
SUPPORT SSD
M.0 NVME 3.0 2280 PROTOCOL UP TO 4GO (SSD SOLD SEPARATELY)
INPUTS
1X ETHERNET RJ45 (10/100/1000MBPS)
1X BALANCED XLR
1X SINGLE-ENDED RCA
1X HDMI ARC
2X COAXIAL
1X USB-B
2X OPTICAL
OUTPUTS
1X BALANCED XLR
1X SINGLE-ENDED RCA
2X USB-A 3.0
1X HDMI I2S
1X COAXIAL
1X OPTICAL
WIRELESS CONNECTIVITY
WIFI 2.4G+5G DUAL BAND
BLUETOOTH 5.0
SUPPORTED SAMPLING RATES
USB / I2S: PCM UP TO 32BIT 768KHZ, DSD UP TO DSD512
OPTICAL / COAXIAL : PCM UP TO 24BIT 192KHZ, DSD DOP64
HDMI ARC : PCM UP TO 24BIT 192KHZ
SUPPORTED STREAMING SERVICES
TIDAL
QOBUZ
AMAZON MUSIC
DEEZER
APPLE MUSIC
HIGHRESAUDIO
PARADISE RADIO
SUPPORTED NETWORK PROTOCOLS
WEBDAV
UPNP
AIRPLAY
DLNA
TIDAL CONNECT
…
SUPPORTED BLUETOOTH CODECS
SBC
AAC
APTX
APTX HD
APTX LL
LDAC
COMPATIBLE OS (USB)
WINDOWS 10 / 11
ANDROID
IOS
RCA OUTPUT
OUTPUT LEVEL
2.1VRMS
FREQUENCY RESPONSE
20HZ – 20KHZ (±0.25DB)
THD+N
< 0.000010% (-119DB) @ A-WT
CROSSTALK
> -121DB
DYNAMIC RANGE
> 125DB
SNR
> 125DB
XLR OUTPUT
OUTPUT LEVEL
4.2VRMS
FREQUENCY RESPONSE
20HZ – 20KHZ (±0.25DB)
THD+N
< 0.00009% (-120DB) @ NO-WT
CROSSTALK
> -121DB
DYNAMIC RANGE
> 128DB
SNR
> 128DB
GENERAL
SUPPLY VOLTAGE
110-240VAC 50/60HZ
RATED POWER
16W
DIMENSIONS
388*248*90MM
COLOR
BLACK